Regardless of the size of your business, you can harness the power of the same high-tech tools used by Fortune 500 companies, thanks to cloud-based technology.
According to recent studies of small- to medium-sized businesses, those using cloud computing greatly outperformed those that didn't. One study showed an average of 26% more growth and 21% more profitability for small- to medium-sized businesses using cloud computing over those that only had their heads in the clouds.
Here are five concrete ways the cloud can help your business:
Reduced costs
Cloud computing eliminates the need for a large IT department. With the data centers located off-site, your business is not responsible for the electricity to run, maintain, or periodically upgrade those servers. The money saved by using cloud computing can then be redirected into growing your business or marketing to new clients.
Increased flexibility
Using the cloud to store and share files gives users much flexibility to choose how and where to work.
Data can be accessed from a variety of devices and from anywhere, which can greatly increase the amount of ground covered in a shorter period of time.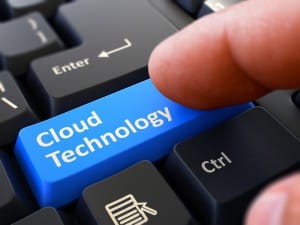 Better security
There's little doubt about the importance of keeping sensitive business data secure from prying eyes, but many small- and medium-sized businesses don't have the budget to beef up security substantially.
With a cloud computing service, there are built-in layers of security which is an especially attractive option to control access to business files, if you have employees or contractors that work remotely.
Storage and backup solutions
Over time, your business accumulates documents and files that gradually create an on-site data storage problem. By using the cloud to store your data, you not only eliminate the worry over available space, but also guarantee a backup in the case of a virus infestation or a major natural disaster.
Ability to grow
While a small- to medium-sized business may initially use only a handful of tech tools, there will be a greater demand for the collaboration, storage, and flexibility benefits that cloud computing provides.
With cloud computing already in place, there is no need to completely restructure systems as your business scales up.
(Image Source: iCLIPART)