GFI Software, a leading software tool provider for companies like Tech Experts, recently released a report that found the personal use of company computers and other devices is leading to major downtime and loss of confidential data in many businesses.
The study of about 1,000 small business employees who used a company-provided desktop or laptop computer found that 39 percent of them said their businesses have suffered a major IT disruption caused by staff members visiting non-work related websites with work-issued hardware, resulting in malware infections and other related issues.
Even more alarming, the study showed nearly 36 percent of staff members said they would not hesitate to take company property, including email archives, confidential documents and other valuable intellectual materials, from their work-owned computer before they returned the device if they were to leave their company.
Since laptops are usually brought home, the study found, they frequently get used outside of work hours for both work and non-work activities.
The study also found that over 90 percent of employees said they have at least some understanding of their company's policy on company-provided desktop or laptop computer usage, and 94 percent said they follow it to at least some degree.
Nearly 70 percent said they believe their employer can monitor iOS, Android or Windows-based tablet use as easily as their employer can monitor conventional PC use.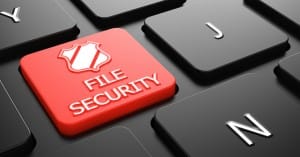 Almost half of those surveyed said they use a personal cloud-based file storage solution (e.g. Box, Dropbox, OneDrive) for storing and sharing company data and documents.
More than a quarter of those surveyed said they have had to get their IT department (or outside IT vendor) to fix or reload their computer after an issue occurred as a result of non-work use, usually a virus.
How can businesses control data security challenges?
Content controls are critical to ensure data does not leak outside of a company or expose a business to legal and regulatory compliance penalties. Businesses can also better control data security challenges if they adopt clear policies and guidelines for employees, and then follow through with them.
It is also important to lock down machines to prevent the installation of unauthorized software, and rigorously update anti-virus and anti-malware programs.
Employee Internet use should also be strictly limited and monitored to prevent data loss and system infections.
(Image Source: iCLIPART)