Last month, I shared with you my personal experience with local search and how it impacted the surgery my dog Daisy needed. This month, I'm going to share with you my personal experience with the importance of offsite backups.
Earlier this month, we had a pretty bad fire at the house. Everyone got out ok, including Daisy and Bailey, but the damage is incredible. We're living in a condo for the next six to nine months while the house is repaired.
The fire started in the center of the house, where all of my networking equipment is located, including my Fortinet router and my Western Digital network attached storage (NAS) device.
I use the NAS primarily to store old tax information, backups of my Quickbooks files, backups of my extremely important pictures from Michigan Football games, and other personal information.
The Fortinet, NAS and everything else that was in that room are completely destroyed – all that remains is a charred mess of plastic connected together by the thin copper wire that used to be Ethernet cable.
As is always the case, the fire was completely unexpected. And, it happened so fast that we had just enough time to get ourselves and the dogs out. There was no time to save network equipment, much less anything else.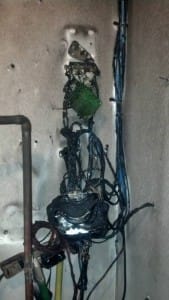 And that's the important thing to take from this. No matter how convinced we are that "it could never happen to me," it's our responsibility as business owners to be prepared for any eventuality.
Fortunately, all of my personal data is protected by the same industrial strength backup solution we use for our business clients – our Experts Total Backup service.
All of my files and documents were backed up to the Tech Experts cloud servers, and nothing was lost. Our Experts Total Backup service works quietly in the background, compressing and encrypting your files before sending a copy of them to the backup server in the cloud.
A few days after the fire, once things settled down, it took just a few hours to copy everything down from the cloud and onto a new NAS unit.
So, what's the take away from all of this? Expect and prepare for the unexpected. If I didn't have an offsite backup for my data, I would have lost a ton of information, but none of it mission critical (except, perhaps, my U of M football pictures).
A similar disaster at a small business would be catastrophic in the best instance, and deadly if the company didn't have offsite backups.
And as I've written many times before, your business's backup is only as good as the last time you tested it.
Whether your backup is onsite using tape or other removable media, or offsite using a service like Experts Total Backup, you must routinely test and verify your backups.
Thanks!
Everyone around me has pitched in to help, but a few folks have gone above and beyond.
Leski Insurance Agency and MEEMIC Insurance Company (734-242-6759) have been incredible.
The Frenchtown Fire Department was on-scene in minutes.
Annette Perna-Taormina from Gerweck Real Estate took literally one day to find us a temporary place to live. Call her for your real estate needs at (734) 243-4200.
Finally, friends Michele Paled, Marlene Messina, Tammi VanAken, Candie Mulligan, Kim Harper, and my mother Carol have been incredibly helpful and supportive.