Do you know where all of your data is? Is the file you're looking for saved to workstation-01 or workstation-12? What happens when a user deletes a file you need from their workstation? What happens if your workstation dies?
If you're a business owner or manager and have trouble answering those questions, centralized storage of your data may be your answer.
You can remove the stress of accidental deletions, have direct mapped access to your files, secure your data from intrusion and, most importantly, make it easy and simple to back up your data.
Centralized storage can include an external hard drive, USB flash drive, NAS (Network Attached Storage) device, cloud environment, or storage on a server. The best method is determined by your business structure.
Smaller businesses may opt for simple external devices attached to a workstation or a NAS device to save and back up their data. Simple external devices such as larger-sized USB flash drives and external hard drives are a low-cost solution.
NAS devices cost more, but they are useful additions to business networks. Most mid-ranged NAS devices offer raid levels 0, 1, and 5, so they can be customized for speed or data protection.
Some NAS devices are running a server-style operating system that will integrate into your existing AD. This will offer additional security features over a simple external hard drive or USB flash drive.
Businesses and home users that opt for the simple and least expensive method need to be very diligent about their data. Smaller devices are more susceptible to theft and damage.
They also tend to have shorter lives than other more costly methods. Should you go this route, make sure you maintain backups of your data and immediately replace your device at the first sign of possible hardware failure.
Data recovery from a simple solution device may not always be possible and it can become very costly to try.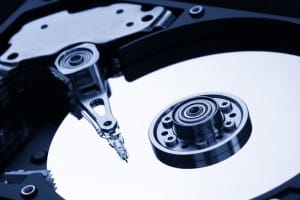 Larger businesses will want to opt for on-site storage with network drives and backup solutions in place. Or they may want to invest in the cloud for a storage. Most medium-to-large scale businesses already have some form of a network server and backup in place, so all that may be needed is additional hard drive space or the creation of folders to house data.
You may also want to install a dedicated server for just data storage and possibly to handle your printing management. Cloud-based storage can be costly depending on the amount of data that needs to be stored, the security level, and the number of simultaneous connections to your data.
Cloud-based methods tend to be best as a secure backup option, but can be used for raw storage. With web-based access, all your employees need is an Internet connection to access their data.
Both on-site server storage and cloud storage offer strong backup options, the ability to restore deleted files, ease of access from off-site locations, and the sharing of files and folders across a wide area.
Whether you choose to go with a low-cost simple solution or a more robust solution, centralized storage brings peace of mind that your data is accessible and secure.
Your business will become more efficient and streamlined just by maintaining your data in one easy-but-secure location for your employees to access.
For more information about implementing centralized storage in your business, call the experts at Tech Experts: (734) 457-5000.
(Image Source: iCLIPART)