Flooding can strain the resources of even the most well-equipped organizations. Natural disasters give little warning to companies, so preparing for the disaster is the only way to reduce the high cost of rebuilding.
Have a plan ready and in place
Disaster recovery plans are now becoming a requirement for many industries. To be prepared, businesses need to locate and define the regulatory requirements of their individual industry. In addition to reducing hardware damage and data loss, this will help avoid fines, penalties or negative press associated with noncompliance.
The health care industry has begun to require that hospitals have a recovery plan in place. The Joint Commission on Accreditation of Healthcare Organizations (JCAHO) sets standards for operating a health care organization and evaluates the industry to ensure that these standards are met. Documented and field-tested recovery plans for theft, vandalism, loss of critical data, provision of emergency power, and file and flood recovery are now required.
Trying to implement or even design a plan while in the middle of a disaster will only lead to a less than successful recovery. Make sure your team is ready for action and everyone knows what to do. It's better to be overprepared than have a plan with holes that will sink your business.
Your data: Make sure you have it
Back up your data regularly. Manage a duplicate copy of all data, programming, and company processes at a different physical location or in the cloud. That way, you can continue working at a secondary location if your system crashes.
One way to do this is to keep copies of all your data, programs, bare metal backups and virtual machines in data centers in other states or in some cases different countries.
Tech Experts offers encrypted, HIPAA-approved, online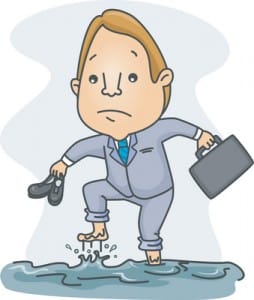 backup of your files, documents, folders and data bases. If you require bare metal backups or the ability to convert your server into a virtual machine to keep afloat until replacement hardware is in place and running, Tech Experts also offers devices that can fulfill that requirement as well.
Treat your data like your money
Keep it safe and keep a lot of it.
Power: Must have it
An uninterruptable power supply (UPS) and a generator provide consistent backup power for your business if power lines go down. Make sure you routinely test and service them to ensure they're working correctly.
Electrical components, including service panels, meters, switches, and outlets, are easily damaged by flood water. If they are underwater or come in contact with water for even short periods, they will probably have to be replaced. Make sure all of your computer systems — from servers, workstations, backup devices, and UPS's — are up off the floor. Servers, backup components and UPS's should be at least four feet off the floor.
Another problem is fires caused by short circuits in flooded areas. Raising electrical system components helps you avoid those problems. Having an undamaged, operating electrical system after a flood will help you clean up, make repairs, and return to your property with fewer delays.
Good relationships with vendors, customers and partners
Create strong relationships with your partners, vendors and customer base. In good times, they will give you access to new ideas, technologies, and business opportunities. During a crisis, they're a security blanket with teams of people who know your business model and have resources to help you rebuild.
Insurance: Business is life
Floods and water damage are expensive. Business insurance is crucial and it's not only for physical property. The right kind of insurance will replace lost income as well. Make sure your business insurance policy is up to date and has the correct coverage to support your business in crisis mode.
If you have questions or you're looking for suggestions on prepping your business for recovery, call Tech Experts at 734-457-5000.
(Image Source: iCLIPART)